WILDWOOD CASTLE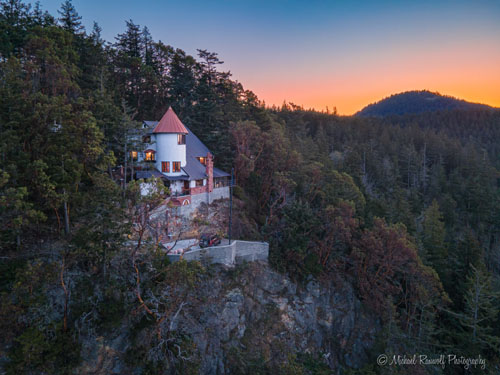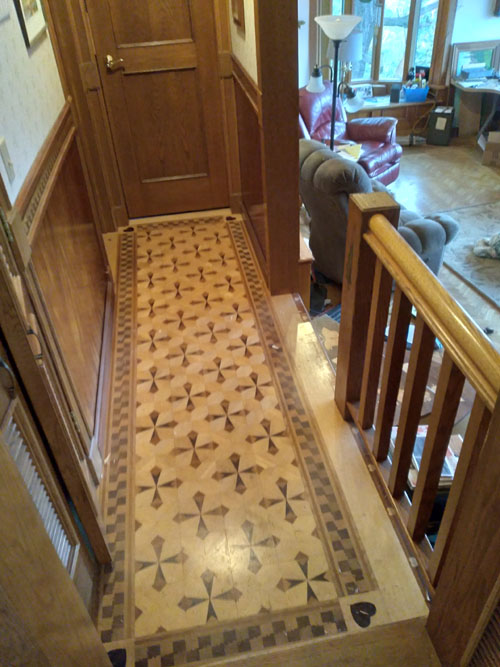 I have enjoyed your site over the years and decided it was time to add my own Castle. I started building it in 1985. It is in Anacortes Washington. It is sited on top of a cliff overlooking Puget Sound. We do have a driveway now but up untill 5 years ago we walked a 1000 ft trail with a 240 elevation gain to get to the front porch.
Materials were brought to the site by a winch and a 450' highline. As you can imagine building it at times has been pure drudgery and at other times a real pleasure. My trade was woodworking and the interior reflects that from the floors to the custom everything. 30 different kinds of wood in 2500 sq. ft.
You have my permission to quote all or part of my correspondence. I also enjoy showing it.
I did everything myself. Surveyed the back two property corners, surveyed the site an drew the plans. Designed and built the drain field. Try doing that now. Built the winch and highline. It would move a pallet of blocks up in an hour. The wife would load it. The block foundation is drilled to the rock every 8 inches and poured solid with bond beams. Framed, wired, plumbed, sheetrock. The sheet rock went up the cable. 250 sheets of 5/8 th. The outside is stucco but I used a ferro cement boat recipe. Harder to apply but much stronger. I am still working on the last details of the wood work.
We started a road about 10 years ago. 5 years ago drove up it for the first time. I have paved about 350 feet of the steepest part, by hand, a yard at a time. 10 feet a day. Prep time, grading, usually takes longer than pouring. 15 more yards and I will have the worst part finished, good enough.
The day is coming to think about selling. The house is basically 3 stories but has 9 floor levels. So yes it helps keep me in shape, for now.
Back to "Castles of the United States"