TOVREA CASTLE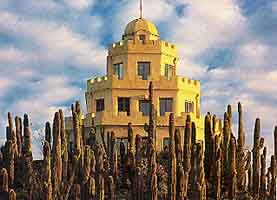 Tovrea Castle was built about 70 years ago by Italian immigrant Alessio Carraro as a grand hotel, intended as the centerpiece of an upscale housing developement. Tovrea Castle was built without working plans, and the final structure bears little resemblance to the intended design. Construction of the castle was interrupted frequently,sometimes for long periods of time, due to the extensive landscaping taking place in the 277 acres surrounding the building. Hundreds of cacti were transplanted along with 2,600 truckloads of river stones, which were whitewashed and used for retaining walls, terraces, and edging for the roads and trails.
Mr. Carraro's dreams were ended by the stock market crash of 1929, and he sold the castle to Edward Tovrea, a business man who owned a meat packing plant on adjoining acreage.The castle was lived in by the Tovreas until Mrs. Tovreas' death in 1969. The house was opened to the public only once, for one weekend in 1984. In 1993, the City of Phoenix bought the castle along with 40 acres, and is planning to restore the castle for use as a visitors center.
Here are some other webpages with more information.
http://phoenix.citysearch.com/profile?id=1625266
To return to this page, click on the BACK button.
On 6-4-11, I received these links:
http://phoenix.gov/PARKS/tovrea.html
http://www.google.com/search?q=TOVREA+CASTLE&hl=en&biw=1280&bih=869&prmd=ivns&tbm=isch&tbo=u&source=univ&sa=X&ei=mb3pTdPjL4XL0AGUzsi1AQ&ved=0CEIQsAQ
http://www.azcentral.com/news/articles/2010/09/12/20100912tovrea-castle-phoenix-landmark.html
Back to "Castles of the United States"
Picture and info courtesy of Phil Bilzor.