SKY HIGH CASTLE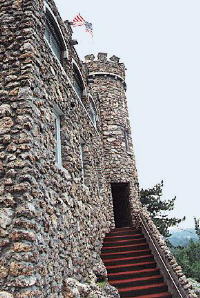 The castle is known as "Sky High Castle" features a large turret and many crenelations. It's striking appearance that has long held the interests of many local folks and visitors to the Joplin, Missouri area. I can speak for the Castle as my family owns the property. We gave public tours of the castle with about 1000 people attending per summer season during 1990, '91 and '92. However, the Castle is no longer open for tours as my family no longer lives in the Joplin area.
Records, as well as older local folks, indicate that the Sky High Castle was built during 1927 - 1930. The owner/builder, who wanted to have his own castle built of local stone, had been to Europe during the 1920s. He had the turret and crenelations built to imitate what he had seen during his travels. It is said that he paid his laborers $1 per day, this being the wage during the depression era. A servant's quarters and guest house were later added as separate buildings near the Castle.
The interior of Sky High Castle includes hand-hewn beams overhead, two cast-bronze ceiling fans that feature retractable fan-blades, two floors each having a large stone fireplace, and many windows taking advantage of the surrounding views.
Outside, the property is also special. The Castle is perched atop a hill and large chert, stone cliffs overlooking a river valley where Shoal Creek flows. The striking appearance comes from the fact that the Castle and cliffs are made of the same color of stone, so that the whole is of impressive height and width. It is 180 feet of elevation change down to Shoal Creek below. The hillsides have been terraced with many rock walls at various levels. Walkways and stairs lead around the property offering many splendid views of the valley and Castle. Rose moss, phlox, carnations and columbine make a home on the rock walls and terraces. Surrounding the Castle are oak woods and a city park along Shoal Creek comes up to the property line on one hillside. The Castle can be viewed from the town of Redings Mill below. This is true now more than in the past as some clearing has been done.
Sky High Castle and the surrounding acreage is for sale at this time. The Castle could be used for a restaurant or bed & breakfast by someone with the imagination to do so. A large parking lot could even double as a helipad and multiple buildings exist on the property as well. Someone else now has the opportunity to experience living in this amazing place.
For more information contact:
Terry Moody
2906 Burning Tree Lane
Missouri City, TX 77459
Phone 281-416-1040

To get to another website with a lot more information, go here:
http://www.rlmcastle.com
To return to this page, click on the BACK button.
Back to Home Page

Picture and information courtesy of Terry Moody.