SINGER CASTLE - (formerly JORSTADT CASTLE)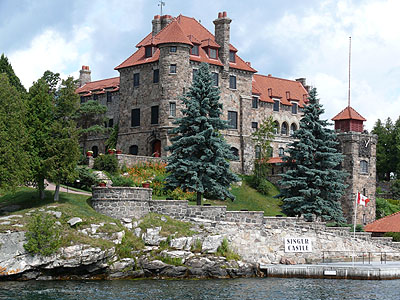 I received E-Mail that said:
Designed after Scotland's Woodstock Castle by renowned architect Ernest Flagg at the turn of the century, this landmark is complete with dungeons, turrets, secret passageways and winding stone stairways. It is 300 ft north of the St. Lawrence Seaway in the Thousand Islands. It has 28 rooms and 5 stories with great hall 2 dining rooms and 10 fireplaces. Last I heard, it was being offered at 9.5 million.
Later, I received more E-Mail that said:
The stuff you have on Jorstadt Castle is good, but here's some more info.
- It was the Singer Company President's summer home/hunting lodge.
- Has a 4 story tower with westminster chimes.
- comes completely decked out with armor, weaponry and torture devices.
- 15 bedrooms, 14 baths.
And, last I saw (In Unique Homes Magazine April '93 - from where that picture came from) it was for sale for $4.5 million, although to construct it again today would cost over $40 million.
Later, I received more E-Mail that said:
THE ORIGINAL OWNER'S NAME WAS FREDERICK BOURNE. THE CASTLE WAS ORIGINALLY CALLED "THE TOWERS" AND THE NAME WAS CHANGED TO JORSTADT BY THE CURRENT OWNERS, DR. AND MRS. HAROLD MARTIN. HIS ORIGINAL NAME HAD BEEN MARTIN-JORSTADT. FURTHER INFORMATION CAN BE OBTAINED BY CONTACTING THE ALEXANDRIA BAY HISTORICAL SOCIETY.
Later, I received more E-Mail that said:
"The castle is complete with dungeons, turrets, towers, secret passageways and subterranean labyrinths. Set amid approximately 6 acres of gardens and terraces, the 28-room, 5-story granite castle features: 17 bedrooms which includes staff quarters, a great hall with massive arched stone pillars, spiral stone stairways, a chapel with gothic windows, library, drawing room, loggia, sun room, wine cellar, huge kitchen, upper and lower pantry with dumb waiter, 2 dining rooms and 10 magnificent fireplaces.
Additional amenities include a pergola, caretakers cottage, an indoor squash court, a 5-story tower with Westminister clock and 2 boathouses (110' and 70'). This island offers boating, fishing and hunting. Furnishings also included are antiques, weaponry, chandeliers and paintings, to name a few.
Later, I received more E-Mail that said:
The property was once known as "Dark Towers" as the island is correctly known as "Dark Island". I have a large article on the property from a book known as "America's Castles" dating from the early 1960's. Among the details I recall the property once served as a summer camp for kids in the 1960's.
Still later, I received E-Mail that said:
There's a reason you had trouble finding Hammond on the map - It's miniscule! :) Jordstat and the Thousand Islands are about the only exciting things there. Hammond is located on Route 37, 26 miles south of Ogdensburg (I'm sure that's on there) and 36 miles north of Watertown. Route 12 also runs through Hammond, 12 miles north or Alexandria Bay.
Later, I received more E-Mail that said:
I can at least copy down what the JUNE/JULY issue of U.Homes. Mag. showed. Word for word, that article reads:
Jorstadt Castle, Jorstadt Island, Chippewa Bay, St. Lawrence Thousand Island Seaway, New York
Jorstadt Island was designed at the turn of the century by famous Beaux-Arts architect Ernest Flagg as a summer residence and hunting lodge for the president of Singer Sewing Machine Co. Inspired by architectural descriptions of Sir Walter Scott's Woodstock Castle (1832), it is complete with dungeons, turrets, towers, secret passageways, and subterranean labyrinths. Set amid 7 acres of lush landscaped gardens and terraces, it stands just north of the St. Lawrence Seaway, where ships from around the world sail by.
The 28-room, 5-story granite masterpiece has a Chapel with Gothic windows on 3 sides, a paneled library, elegant drawing room loggia, sun room, wine cellar, private offices, 17 bedrooms and 10 baths. The Great Hall boasts massive arched stone pillars, spiral stone stairways with hand-carved balustrades, and one of the castle's 10 magnificient fireplaces. There are 2 dining rooms.
This enchanted island offers boating, fishing, and hunting. There are 2 granite boat houses; one has 10 bedrooms, 2 baths, a common room, and workshop. There are also a seperate maple-lined stone squash court and caretaker's stone house.
Later, I received E-Mail that said:
Jorstadt Castle was built around the turn of the century for Commodore Frederick G. Bourne, President of the Singer Sewing Machine Company. According to my late wife, the Commmodore's great granddaughter, he built the castle for his wife, and to get away from the mosquitoes that abounded at his summer place, Indian Neck Hall in Oakdale L.I. (now LaSalle Military Academy), a 110 room mansion located on 2,500 acres and fronting on the Great South Bay. He called the castle "Dark Island." It was given to the Christian Brothers who run LaSalle by the late Marjorie Thayer, one of the Commodore's daughters. The Commodore also owned residences in NYC at the legedary Dakota Apartment house (he owned the entire first floor) and an apartment at the Clubhouse on Jeckyl Island, Georgia .He got the commodore title for serving in that capacity for the New York Yacht Club.
For more information, check these web pages:
http://who2c.com/slegels/slphoto.htm
To return to this page, click on the BACK button.
Later, I received E-Mail that said:
I saw one of my favorite American castles in a movie today. It is newly out on video tape. The castle, of course, is "Jorstadt Castle", at least thats the name on your website. It is probably 2/3 of the way through the movie!!! The name of the movie is "The Skulls".
Later, I received E-Mail that said, in part:
Lately, the breath taking island was featured in the movie "The Skulls." The castle was the weekend getaway for the exclusive members of the Skull and Bone society. Local people and their antique boats are featured in the movie. When I saw the movie, I couldn't believe how close to home it hit me. My brother has actually worked on the reconstruction of the Island's wall.
Another interesting aspect of the island is that it is on the U.S./Canada border. You see the front of the Castle (in your picture) is the American side. The Canadian side is not quite as lovely or well kept. It houses a run-down boat house and unkept shubbary. Still all in all the castle is truely a fairytale and it brings many happy memories to me everytime I see it.
Later, I received E-Mail that said:
I am the castle soloist/pianist for the summer worship services at Jorstadt and have been doing this for over 20 years now. Let everyone know they are more than welcome to visit the castle any sunday from Memorial Day to Labor Day for the 11:00 AM services (followed by a tour of the castle). Hey, the music's great!!
Patty Mondore
Later, I received E-Mail that said:
Jordstat Castle in Hammond, NY has been sold to a group of 3 investors from Galveston, TX for a reported amount of $1.8 million.
Later, I received E-Mail that said:
News from the Seaway Trail, one of America's Byways
Singer Castle to Open on Seaway Trail in 2003
Schermerhorn Landing, NY -- Not far from Boldt Castle, one of the Seaway Trailıs headlining attraction, a new castle is preparing to open to the traveling public visting the 1000 Islands region of New York State in 2003.
Singer Castle, formerly Jorstadt Castle, on Dark Island in the St. Lawrence River is seeing some two million dollarsı worth of repairs and renovations. The 28-room, five-story, granite castle with towers, turret, and dungeon was built in 1896 for Commodore Frederick G. Bourne, president of the Singer Sewing Company. Dubbed The Towers, the magnificent structure was designed by architect Ernest Flagg, who used Sir Walter Scotts' Woodstock Castle (1832) in Scotland for inspiration.
The castle sits on a seven-acre island and has a Great Hall, secret passageways, Italian and pink marble fireplaces, library panels that open to passages to the wine cellar and to third floor closets, carved stone arches, Gothic windows, moose and elk heads on the wall, and a large iron chandelier. The grounds have beautifully landscaped gardens and a pergola.
Upon his death, Bourne left the castle to family who later gave the castle to the LaSalle Military Academy, Long Island. The school having no use for the castle sold it to the Harold Martin Evangelistic Association in 1965. Harold Martin's family name was Martin-Jorstadt, thus The Towers became Jorstadt Castle and the chapel was opened to the public for Sunday religious services for 30-plus years. American Castles Holding, Ltd., a German investment group, now owns the renamed Singer Castle.
Singer Castle is expected to open in mid-summer 2003. Guides will tour visitors through the terra cotta-roofed castle. Singer Castle, its stone boathouses, and clock tower with Westminster chimes (said to be worth more than $75,000 US), will be easily and pleasantly reached by a short boat ride from the New York State mainland. To see photos of the castle and its interior, visit http://www.private-islands.com/sales_islands/sites/3b_dark.html
Architecture is a popular travel theme for motorists on the 500-mile-long Seaway Trail. Singer Castle will join Boldt Castle, the French Castle at Old Fort Niagara, Frank Lloyd Wright's Graycliff, the Seaway Trail Discovery Center, 28 historic lighthouses and many other interesting structures on the signed scenic driving route paralleling the St. Lawrence River, Lake Ontario, the Niagara River and Lake Erie.
Later, I received E-Mail that said:
I wish to announce the release of a comprehensive documentary/biography video done on Singer Castle (formerly known as Jorstadt Castle) on Dark Island in the Thousand Islands region. Many facts never seen before by the public are now revealed. The castle and its builder, Commodore Bourne, and their stellar histories can now be viewed in DVD or VHS. I, the producer, and my wife spent many years visiting the castle. This is a fascinating documentary that is jam packed with facts, pictures, video, local information and, yes, it is even inspirational. To see the video information, please visit us at: http://www.gold-mountain.com/projects.html
Thanks,
Bob Mondore, producer http://www.gold-mountain.com
Here's another link for you about Dark Island (Singer Castle) in Upstate NY: (It's a Photo/Radio essay that the local NPR station did recently; the link is from their wesbite. www.northcountrypublicradio.org/news/darkisland/page1.html
Later, I received E-Mail that said:
Official info. on Singer Castle can be found at www.singercastle.com and should be listed on your site.
Later, I received E-Mail that said:
Some time ago I sent you info about Singer Castle, formerly Jorstadt Castle, on Dark Island opening as a public attraction. It opened earlier this month for public tours.
Here are some details on the tours:
...Dark Island Tours is a company owned by German investors who bought the 6.2 acre island and 28-room Scottish-style castle for $1.8 million dollars.
How to reach Singer Castle:
... take New York State's Seaway Trail to Alexandria Bay, take an Empire Boat Tour water bus, 89 passengers per trip; trips leave at 11:30 am and 4 pm
... take New York State's Seaway to Morristown, take Empire's Edith, a 48-foot-long classic wooden boat built inClayton in 1923, 49 passengers per trip; trips leave at 10 am and 2:30 pm
Ticket prices:
... boat tour tickets: $15 (US) for adults, $12.50 for seniors
... castle tour tickets: $10 for adults, $6 for children
... guided tours available to groups of 25 with prices as above
Tours include:
... first three floors of castle with furnished rooms, wine cellar, roof garden, dungeon, secret passages and armor on the walls
... the grounds, including a pergola and a Westminster-style, five-story-tall clock tower
... south boat house welcomes tour boats and will house a gift shop
Yet to come:
... a restaurant in Morristown may offer package deals to include a buffet-style meal plus the boat ride
... north boat house on island is undergoing renovations and should be open in 2004
... tours of the top floor now under renovation
Later, I received E-Mail that said:
My husband and I and two friends were hired by Dr. Martin from his Miami winter home to go to his castle and help open it up after the winter and clean it up, make repairs, etc. We were only there for a couple of weeks and got to visit with the Canadian/French couple that were the Winter caretakers. There was indeed secret passages, cells with broken off barred doors, underground passageways for past servants, etc. There was far more than we could explore in our limited time but the experience was awesome.
Later, I received e-mail that said:
Here is a fun story the winter caretakers told us. During the winter they were mostly confined to the castle unable to cross the frozen river. Due to fireplaces being the only source of heat, they closed off most of the castle and lived primarily in the downstairs kitchen and one large bedroom off of that kitchen. One night they heard a persistent 'thump, thump, thump' It was coming from an upper stairwell. They did some investigating and found nothing at first. Then they would hear the same 'thump, thump, thump' from another stairwell. It was quite frightening under the circumstances.
There was no way anyone should have been able to get out to the castle across that frozen, hazardous river in the middle of the night. The thumping continued intermittently through the night and they just had to find out what it was so they stealthily followed the sounds until they discovered the source! Earlier in the winter when they made their last trek across the river for supplies, they had come across a racoon with his tail frozen in the iced over river. They managed to chop around the tail and free the racoon who spent the rest of the winter dragging a chunck of ice around on the tip of his tail. Apparantly the little guy had found his way to the castle and was going up and down the stairs seeking food, shelter, and probably a way to melt that chunk of ice off his tail!
On 5-11-05, I received E-Mail that said:
Your fans may enjoy this on your Singer Castle updates (NY State). Hot off the book press is a pictorial tour and history of Singer Castle. Published by a major press, Arcadia Publishing (publishers of the famous Images of America series). Authored by the producers of the movie, Dark Island's Castle of Mysteries (Robert and Patty Mondore). Read all about it at the Gold-Mountain.com web site. The book is named: Singer Castle http://www.gold-mountain.com/SingerCastle.html
---
A castle is a wonderful feat of architecture. If you're trying to build a castle of your own, you can't go wrong with Castle Rock neighborhoods. For the best in Colorado real estate, do a bit of online research. There are plenty of Denver homes for sale that would make a very elegant domicile.
---
Back to "Castles of the United States"