PIGNATARO CASTLE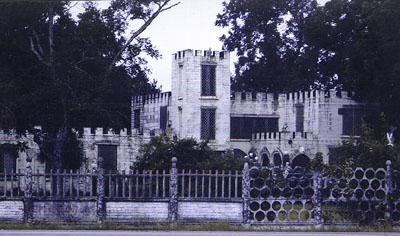 I received E-Mail that said:
There is a castle on Hwy 6 near Santa Fe TX. The story goes that the original person that built it , had gone to Spain and spent some time in a Villa there ... these people had money and when they came back the wife liked it so much that she had a miniture copy of it built. At one time the people that owned it split it into apartments with a theme ... one apartment had a royal bathroom .... another the royal bedroom etc ... this was in the early 1970s and my family lived there. I was quite young at the time ... 2 or 3 years old. Since then the castle has become a one family dwelling again and last I heard it was owned by a family named Pignataro (spelling could be way off) I have one very poor picture of it some where in storage but you can barely see it as it was taken from the street outside the main wall the trees have grown so much around it that there isn't much to see in the picture other than the wall, main gate and trees. Anyway ... here is a new castle for you :)
Later, I received E-Mail that said:
We have been running around Texas locating castles - what fun! So far, we have seen the Falkenstein Castle, Greystone Castle, and the "Unknown Castle" at Santa Fe. We verified the name out front of the this castle to be the "Pignataro Estate." I got some excellent photos and it looks very interesting.
Back to Home Page

A special thanks to James and Pat King for sending the photo.