PENNIMAN CASTLE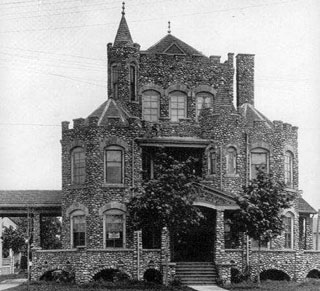 Penniman Castle as it originally looked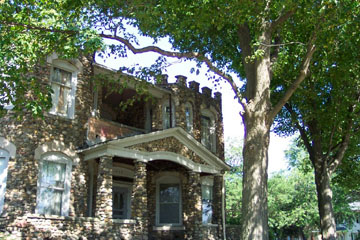 Penniman Castle as it looks now
I received E-Mail that said:
Thank you for this web site. My wife and I bought Penniman castle in 1994, here is a little information about it.
Penniman castle was built in 1906 to resemble a medieval castle H plan with great hall surrounded by 4 towers. The castle measures 40 by 40 feet and includes a rotunda which is in the hall (circular balustrade in 2nd floor). The outside is built of cobble stone of different colors and it has lime stone arches over windows and sills. Quarter sawn oak is used throughout including floors which are all parqa' in every room. The master chamber is solid birds eye maple ). It has extremely ornate wood work (carved) throughout including the guardrobe (latrine). The castle has 17 rooms of which 4 are bed rooms. The walls are one foot thick ( much thinner than a medieval period European castle). There is a stone moat, an a inner bailey, and the door knobs are solid brass with a coat of arms embossed on them. At the time it was built, it was the costliest home in this end of state of Michigan. Many famous people attended "balls" here in the ball room on the third floor.
Penniman castle is on the Mich. state register of historical landmarks, and was recently added to the national register of historical places.
Later. I received E-Mail that said:
Penniman Castle in Battle Creek, Michigan no longer has a third floor having been destroyed by fire ( I believe) some decades ago.
Later, I received E-Mail from the owner that said:
Penniman castle has been completely restored in the interior of the structure. However, the third floor ballroom should be rebuilt to its 1906 grandure, for in 1914 the stone ball room was taken down and a more conventional gabled roof replaced the stone ball room. A chimney fire burned down the gabled roofs in 1941, leaving the castle its present look. My wife and I are attempting to somehow rebuild the third floor ballroom to look like the 1906 picture shown in this web site.
If you wish to tour the castle contact Doug and Kathy Kidder 443 Main Street, Battle Creek, Michigan (tour cost is $5.00 per person) which includes history of castle as well as tea and crumpets.
Later, I received E-Mail that said:
This email is regarding the Penniman Castle in Battle Creek MI. I recently visited Battle Creek, my husband is from there. I stopped by the Penniman castle and it had recently been on the market for sale but now has new owners. They were just moving in and stated that they do not give tours of the castle. Just thought that you might want to update your site.
Back to "Castles of the United States"

Thanks to Doug Kidder and Richard walker (the current owner) for the photos and information.