MCCULLOCH CASTLE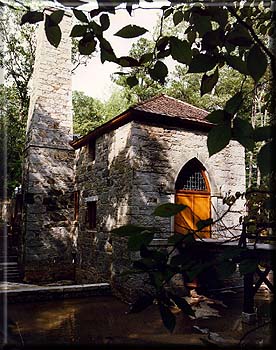 Castle McCulloch was built by Charles McCulloch and was completed in 1832. The property remained in the McCulloch family for many generations. The current owner rebuilt the castle in the early 1980's. The castle has 3-foot thick granite walls, a 70 foot stone tower, and a working drawbridge. It is located on a 60 acre parcel of land. The interior is of period decor, featuring medieval tapestries, suits of armor and antiques.
Visit their homepage by clicking here.
To return to this page, click on the BACK button.
Later, I received E-Mail that said:
This is the one that we thought had a working draw bridge, but it didn't. They were having a wedding rehearsal the day we were there so we couldn't go in.
Back to "Castles of the United States"