MARIAN HEIGHTS CASTLE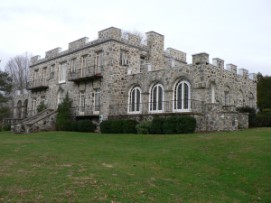 I received E-Mail that said:
In regards to the castle in Newtown, CT, there is none that I know of. I live in Monroe (a town over) and the castle that someone claims to have found on route 111 is known as Marian Heights and is operated by a group of nuns.
There's currently debate over its future so its kind of ironic I would stumble over your website now. Here's the link to the story
http://monroe.patch.com/articles/conservation-commission-recommends-town-purchase-of-marian-heights
and another with more pictures
http://monroe.patch.com/articles/monroe-land-trust-the-castle-at-marion-heights-is-on-the-agenda#photo-8200142
Just so there's no confusion, this is in Monroe, CT, not in Newtown.
Back to "Castles of the United States"