MAKEBELIEVE CASTLE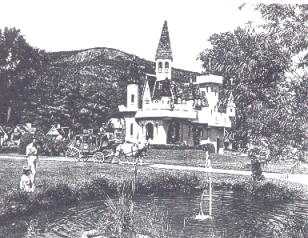 Makebelieve Castle is located in The Land of Makebelieve which is in Upper Jay, New York. For further information, call 518-946-2534.
Later, I received E-Mail that said:
I found your web site while searching for stuff on the Land of Makebelieve where one of the castles in your listings is located. I have a web site that gives many more details about Land of Makebelieve, which in its day was a fascinating place. The castle was one of the best things about the "Land." You could go all through it, even to the third floor.
Later, I received E-Mail that said:
Hello friends of Land of Makebelieve,
I have some sad news for you. It was going to happen sooner or later, but it is sad none-the-less. Arto Monaco died last week on Thursday (Nov 20th.)
I have not heard anything yet about memorial services or a funeral, but Mountain Lake PBS did re-run the "People Near Here" episode "Arto Monaco: The Land of Make Believe." Also from the above article is this qoute, which I know many of us resonate with: 'Derek Muirden, host/producer of "People Near Here" had a close relationship with Arto. Reflecting on his life achievements, Muirden says: " The legacy of Arto Monaco will be that he made tens of thousands of children happy, not for just a day, but for the rest of their lives.' "
I have some additional news as well. A small group of people had started planning on doing something special to recognize the 50th anniversary of the opening of the Land of Makebelieve, which is next summer (2004). Among the top things being discussed is restoring the castle, fixing up a portion of Land of Makebelieve so it might give our current generation a small taste of what Land of Makebelieve once was, and hopefully with PBS's cooperation, the reproduction on video of the People Near Here Land of Makebelieve episode.
I don't know how Arto's death will affect these plans, but I for one sure hope we can do these things and a lot more, though any public events will have more of a memorial tone to them rather than something festive. Arto is gone, but his spirit will live on!
Later, I received E-Mail that said:
People Near Here Land of Makebelieve videos are now available at Mountain Lake PBS: http://www.mountainlake.org
A non-profit organization has been set up and a trust fund has been created to promote the vision of Arto Monaco. For information on this effort and to get involved, go to Adirondack Community Trust at http://www.generousact.org/ and click on News in the lefthand column. The topmost article is about Arto Monaco. I don't know how long it will remain the top most article. There is an address and phone number at the bottom of the article for obtaining more information about making a donation.
I haven't heard anything more specific about a 50th anniversary event for Land of Makebelieve, but again, the more people get involved, the more likely something is to happen. And of course, I'll continue to keep you posted as I hear news.
More details about this can be found at my web site: http://members.aol.com/Bill222E/lofmb
On 8-30-11, I received e-mail that said:
I came upon your site this morning while looking for some old pictures of the Land of Make Believe in Jay NY. It saddens me to report that the castle which was a landmark for the area has been destroyed by the flooding from Hurricane Irene. I have attached a picture.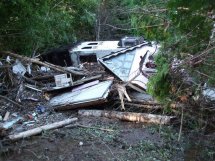 More information is available on the Ausable Forks Facebook page.
http://www.facebook.com/pages/AuSable-Forks-NYin-the-Adirondacks/125588860817235
On 2-1-16, I received e-mail that said:
Dear friends of Land of Makebelieve,
I have updated my Land of Makebelieve page with a link to various pictures of artifacts I have or used to have from Land of Makebelieve. These items were all sold in the gift shop at Land of Makebelieve when they were still open.
The link is here:
http://www.ensingers.com/Bill222E/lofmb/pictures.html
Others have posted pictures on Arto Monaco Historical Society Facebook page. If you haven't checked out that page in a while or ever, please do! https://www.facebook.com/groups/artomonaco/
I am also selling on Ebay a Land of Makebelieve Pennant. The link to the auction is here:
http://www.ebay.com/itm/291672907368?ssPageName=STRK:MESELX:IT&_trksid=p3984.m1555.l2649
Sincerely,
Bill Ensinger
Back to "Castles of the United States"

Picture and information courtesy of Randy Kingsley.