LION & ROSE CASTLE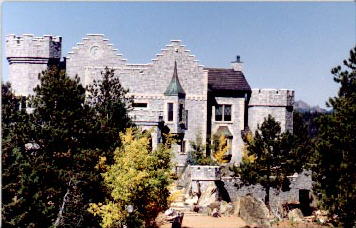 The Lion & The Rose Castle resides on 20 acre mountain top adjacent to Pike National Forrest in the Colorado mountains 12 miles outside of Woodland Park. The castle was built by Eric K. Glanzer and his wife Nancy. Construction went from 1991-2000. It has 6500 sq. ft. of finished living space and two, 2-car garages in the lower level. It is adorned with highly carved gilded plaster crown mouldings, Italian marble floors, antique chandeliers and furnished with period antiques. The stone is European castle stone....a waterfall and stream are incorporated into the entryway landscaping. It has five bedrooms and 4 1/2 baths. The views of the Rocky's are breathtaking...360 degrees. Though it was a Bed & Breakfast..it has reverted back to being our home after five years and 600 plus couples having enjoyed its antiques and ambiance.
Eric K. Glanzer M.D.

It is For Sale at $5 million, furnishings are extra if desired. Purchase inquiries to our broker, Jeff Ordonez at 719-661-2685.
For more information, go here: http://theluxurybrokers.com/lionandrose.htm
Back to "Castles of the United States"