LINDENWOLD CASTLE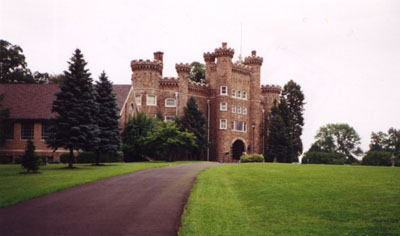 I received E-Mail that said:
I don't know if you have seen this one--it is on Bethlehem pike in Ambler PA. sorry I don't know a phone #. when I was young, it was a home for underprivileged/mentally challenged children. I believe it was built around 1900 by mattison, who built many of the houses in ambler to rent to the people who worked for him. I have seen a sign on occasion that gives a phone # to call for tours.
Later, I received E-Mail that said:
This castle, called Lindenwold Castle according to a Library of Congress survey, was the home of a Dr. Mattison, who was a principle in the firm of Keasbey and Mattison, a drug-manufacturing company (if I remember correctly). You can find a photograph of this castle published in the book "The Victorian Home in America" by John Maass, published by Hawthorne Press back in 1972...see page 196 &197. The photo of the castle is cropped, but you can see a multi-story central tower, square in plan, with circular corner turrets and crenellated battlements across the top along the roof.
Dr. Mattison's company apparently built a rather ambitious company town in Ambler to accommodated it's various employees. Numerous types of housing in various sizes and styles were built. What may be of interest for castle seekers are the those houses built for the executives of the company, as many of those are castle-like in appearance. Two of the houses and a massive towered stable building are illustrated in the Maass book mentioned above. Another illustration of the executive's houses can be found in an old periodical called "Architecture and Building" Volume 23, Number 6, dating from August 6, 1895. All of these buildings feature massive stone construction, steeply pitched roofs, rounded or square towers and turrets, and picturesque, irregular outlines so often found on the medieval castles of Europe.
A final resource where you might be able to find information about the Ambler houses is the Library of Congress. Most of the Keasbey and Mattison buildings are featured in the Historic American Building Survey...you can visit the site on-line at http://lcweb2.loc.gov/pp/hhquery.html Searching by the title Keasbey and Mattison, you can generate a list of their buildings. Unfortunately, in this catalog all of the Keasbey and Mattison buildings are listed as "unprocessed items" and apparently unavailable...perhaps someday...
Later I received E-Mail that said:
I was in Ambler,Pennsylvania and the Lindenwold Castle was down the street from where I was staying. The castle is now called St. Mary's home for children. The grounds have statues, lakes and boathouses. It also has 2 gatehouses. I was looking for info on the castle and found it was used in the movie "Where Angels Go Trouble Follows" with Hayley Mills and Roselind Russell in the 1960's.
They have even added on a church to the castle. I'm assuming that it may have been remodeled because some of the window shapes are similarly styled in both the old and new pictures.
Later, I received E-Mail that said:
Lindenwold Castle (St. Mary's Villa) which is located at 701 S Bethlehem Pike in Ambler, Pennsylvania is a huge 40 room castle that semi replicates Windsor Castle in England. Originally the Castle was a large Victorian mansion, however in 1912 the mansion was encased in stone to replicate Windsor Castle. The people who lived inside this wonderful Victorian home were Dr. Mattison and his family. You could call this very intelligent man the asbestos king for he and his partner Mr. Keasby owned one of the largest asbestos manufacturing companies.
The property today consists of 43 acres however was much larger before. On the property there is a boathouse, two Gate Houses and a Gazebo. Running along the exterior wall are 8 large executive homes (Lindenwold Terrace) and further down the road a farmhouse, which was called Little Linden Farm. There is also a large body of water on the property called Loc' Linden. This large stately home sits up on the hill and from its third story windows you have the ability to see down to the factories.
Later, I received E-Mail that said:
On the page about Lindenwold, PA the movie that starred Hayley Mills was "The Trouble with Angels," not "Where Angels Go, Trouble Follows."
Later, I received E-Mail that said:
Ambler Pa St. Mary's Home for Children. When I was a child we were permitted to Ice Skate on the Lake. My Catholic grade school was invited to dances at the home. Tours were also given. The home and the grounds were beautiful. Two movies in the 1960s were made there THE TROUBLE WITH ANGELS and WHERE ANGELS GO TROUBLE FOLLOWS. I was on the lawn of the home during one of the rehersals. The area has changed. There are houses build on some of the property. The Castle still stands and I hope many children will still learn to Ice Skate on the beautiful lake for years to come.
On 5-17-11, I received e-mail that said:
I lived at St. Mary's, the Lindenwold Castle, 1971-1974. In the dining room of the castle, there are two stained glass windows on either side. The stained glass motifs are of an older woman in the center and two younger women. The pictures are of different women. There is another "castle" behind the photo. One of the ponds has been filled in and became a sunken garden.
The builder of the property also built many homes a street that borders St. Mary's. There are large, beautiful and were for his employees.
Yes, there is a chapel, a convent, a school, and a swimming pool. The swimming pool was donated by the movie makers "Trouble with Angels" and "Where Angels Go, Trouble Follows." There are stations of the cross lining one of the internal streets, a guard house - which was used as a boy's group home at one time, and a couple of other buildings to house children as well.
On 11-14-14, I received e-mail that said:
They are knocking down the st. Mary's Villa in Ambler pa. Look out for saving petition. The location for trouble with angels movie.
On 5-17-16, I received e-mail that said:
I found additional information regarding the History of Lindenwold that is available via their new website http://www.lindenwoldestate.org/history/ , which is a part of a mission to preseve the property as there in now a pending sale to a developer who wants to repurpose the land for a housing development.
Back to "Castles of the United States"

A special thanks to Mike Dmuchowski for sending in the photo.