LAYTON CASTLE?
WARDLEY CASTLE?
FERNWOOD CASTLE?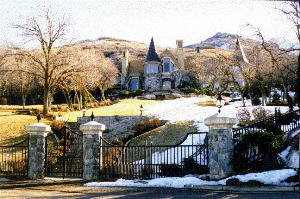 I received E-Mail that said:
Up on the benches in Layton Utah there is castle (I do not know of its name), being used as a residence.
Later, I received E-Mail that said:
I live in Ogden Utah and drive by the Castle in Layton all of the time. I don't know who lives in it now but it was built by a guy that lived by himself! It is huge inside but it only had one bed room. One bed just for him that's all.
Later, I received E-Mail that said:
The castle is in Layton on the side of a mountain. The man built the castle but also built a home directly north of the castle for his wife. It too is ornate but not like the castle itself.
Later, I received E-Mail that said:
I have lived in Layton Utah for 23 years, and my mom told me when I was young that "a man and his wife lived elsewhere, and when they had gotten divorced, she received a lot of money in the divorce. She moved to Utah, and built herself a nice home in the valley. Out of spite...and love (he wanted to be with her), he moved there also, and built a castle up on the east bench in Layton. He could see every house all the way to the Great Salt Lake...including hers. It was his way of watching "over" her." They are now both deceased. The castle has always been a private residence and not open to the public for view.
Don't know if it is fact or fiction, but I have heard this story all my life, from many people in the Layton area.
Later, I received E-Mail that said:
Saw your website and the Layton Castle. I live just below it. The owners name is Lynn Wardley, and he owns a large real estate firm (Wardley Better Homes and Gardens/GMAC Real Estate) in Utah. He bought it a few years ago, and has put quite a bit of money into remodeling.
Later, I received E-Mail that said:
I can reinforce the story about the husband/wife thing. My dad knew them. Before the castle was built, the wife was always being told by her mother that her husband would never amount to anything and that she should leave him and marry someone richer. After time she did just that and her new husbnad never amounted to much. Not long after she had remarried, Her first husband made a great deal of money and became successful. With his new found wealth he built a castle almost literally in her back yard. Every time that she stood at her kitchen sink and looked out the window the castle was her view. I have been to the castle, a few years back it was used for a senior picture by the High School I attended. It is beautiful. Moral of the story? Sometimes it isn't best to listen to your mother!
Later, I received E-Mail that said:
I lived in Utah for 27 years. I remember being pre-teen when the castle was built, and heard stories that it was brought in piece by piece from Germany. Not sure on that. However, my cousins lived two blocks down from the 'castle', and when I was 16 and living with them, they were the couples hometeachers. I got the pleasure of going there once. Later they were divorcing, and the castle was put up for sale. I was told that he was a lawyer, and she was an opera singer. They may not have been the original owners of the house, and probably don't reside there now...Regardless of the heritage, the iron work, brick drive, gardens, wow, it is a beautiful place!
On 3-18-06, I received E-Mail that said:
I wanted to give you a little more correct history of the Layton Castle. The address is 3333 Fernwood Park road. The castle does not have a name and has been a residence since it was built. There were a few years that no one lived in it while they were trying to sell it.
Knowing the man who built it, the woodworker for the cabinets, the ex-wife and kids. The lot was purchased either in 1969 or 1970. I know this because my parents purchased all the land to the west of it from the park gate to the forest service property line below in April of 1969 when I was three weeks old. The castle land was bought then as well. To the south of the castle is Forest Service land so no one could build next to it and the house to the north was there long before the castle was built.
The original plan for the castle was not that of a castle but that of a family home that originally had an indoor tennis court, swimming pool and bedrooms. When the first foundation was poured the owner Gary Willey was still married and had two sons. During the building of the original home Gary and his wife divorced. She kept the sons. He no longer needed multiple bedrooms at the time the castle was being built. It was not built for him to keep an eye on his ex-wife. When she remarried she and her new husband built a home close to the castle, but it was because they had already bought the property from us, and she received that as part of the divorce settlement. His sons did frequent the home with their friends including my brother.
I went inside the castle shortly after it was built since I had been a neighbor throughout their many moves. One of the bathrooms was done in a rich burgundy floor to ceiling mural of Angels. One of the turrets was done in sky blue with a cloud mural on the ceiling as a living room. There were originally maids quarters as well but there was not a maid while I lived by. Gary remarried a woman who had a daughter and they lived their for a while. She died of cancer. He married again and then moved out. The custom cabinetry was done by the neighbor to the north. The castle was not his house. He just did the cabinetry. The cabinets in the kitchen tells part of the story of Gary's life. A very small part.
Outside the south end of the home there was a heated swimming pool for his sons and their friends to use anytime they wanted. The driveway is made of heated brick to keep it from becoming icy. You can't see it in this picture but there is a fountain in the front yard toward the bottom by the gate. There are horse stables to the east that also have turrets on them. I don't know if they are still being used. Lynn Wardley still owns the house and is trying to purchase the property across the street. Some say it is so his view would not be blocked by a home being built in front of his home. But it is because he hasn't offered what the seller is asking for the property. I thought you might like a more correct version of how the castle was built.
On 12-12-10, I received e-mail that said:
Hello, I was amazed to see this on the web. Now that I have, you'll need to hear the real story.
Of all the stories the last one holds the most validity about the home, what it looks like and who purchased the land. Gary Willey ( A very Charming and Handsome man) Is in fact the one who purchased the land and he does have two sons Todd and Shaun Willey. However, he was married to his second wife and the love of his life when the home was planned to be built. It is truly a cinderella story. (hence the castle lol)
Gary one day saw a beautiful dark haired, dark eyed lady, her name was Lynda Roundy (Willey) she had three boys of her own, Tad, Shayne and her youngest Rick. She too, had a hard first marriage with a man that....( Never mind, that's another story) Any way one day while working she met Gary, I have been told many times it was that "love at first sight" kind of love. They met, they courted, traveled the world and of course fell in love, then they were married. A Short time later Lynda Roundy Willey was diagnosed with Breast Cancer. I was told during one of the remission periods Gary vowed to build her the home of her dreams. It is true there is a pool, tennis courts and a lovely stable area. Just by looking at the outer gates you can see that with his true love in mind, Gary placed his wife's beauty not only into the home but into all that surrounded it as well.
Soon after they began to build Lynda lost her battle with cancer. She did not live to see her dream home finished however, the love of her life built it just the same. ( I believe the angels inside were for her as well) Gary later dedicated the home to his lost love and held tours for a short while. ( Those who toured left a donation; later to be given in her memory for the fight against cancer) So unlike in fairy tales not all stories have a happy ending. But now when people look upon that home and the massive wrought iron fence, the lovely twist and turns of the huge gates they will know, This home was not built for spite, it was built for love, it was built by a man taking all the beauty he saw in his wife and building it into this home. A home that she saw only from Heaven. I think you can trust that this is accurate, you see I should know, I married one of her wonderful sons. I hope anyone who goes to see this castle will know the love story behind it.
On 12-19-11, I received e-mail that said:
Website/Images of the Wardley Castle (AKA Layton Castle) Layton, UT
http://www.wardleycastle.com/
On 5-27-12, I received e-mail that said:
There's light-colored stone on some of the outside walls. I think that's why the locals refer to it as a castle. You can see the crenelations and the towers using Google Maps and searching for - 3333 Fernwood Park Road, Layton, UT My sister Carol has lived in Layton for about 30 years - her family has often referred to it as "the castle."
Here are 2 videos on YouTube - since it was For Sale in December 2010 -
http://www.youtube.com/watch?v=qYmUd7MibOY
http://www.youtube.com/watch?v=oQYJSEfMGrQ
On 12-12-12, I received e-mail that said:
I noticed they changed the name of the Layton/Wardley castle to "fernwood castle"...probably because it is on "Fernwood".
Back to "Castles of the United States"

Preliminary research for this page done by Keith Patrick, more info from Terese Simpson.