KINGFISHER TOWER CASTLE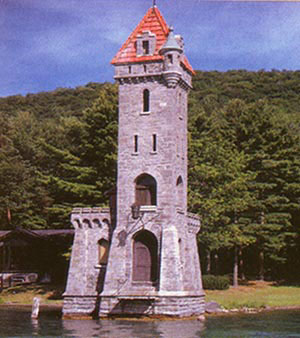 Edward Clark, an attorney from New York City, had made a fortune by sharing in the Singer Sewing Machine millions with inventor Issac Singer. After building several mansions, a hospital, a hotel, and several other public buildings in and around Cooperstown, New York, he commissioned the construction of 60ft. tall Kingfisher Tower "to beautify the lake" (Otsego Lake). This is a whimsical structure built strictly for asthetic purposes by a civic-minded millionaire.
Later, I recieved E-Mail that said:
As excerpted from a September 1876 article in The Freeman's Journal written by Edward Clark, the builder/owner, himself:
" ... Kingfisher Tower is a miniature castle, after the style of the eleventh and twelfth centuries .... The tower is about 20 feet sq. at the base, and at a height of five feet above the water is the main floor. Ten feet above this is the first platform, provided with ramparts and machicolated parapets.
"Above this stage the tower alone rises, eight feet sq., crowned with a pyramidal roof pierced with a window on each side, the walls bearing at one angle a bartizan with conical roof. The walls of the structure are most solidly built of stone from the shores of the Lake, the roofs covered with earthen tiles ... The main windows are brilliant with stained glass, and each bears in the center a heraldic shield. When first built a drawbridge connected the castle with the causeway running to the main land, while a portcullis could be lowered to close the entrance.
"The drawbridge, portcullis and doors were all of solid oak. Stairs lead to the highest platform of the tower, and from the numerous openings and loopholes with which the walls are pierced, a fine panoramic view of the lake and county can be obtained. ... The original design for "Kingfisher Tower" was selected from several drawn by Henry J. Hardenburgh, Esq., architect.
Of note, Mr. Clark was actually criticized for his folly as few people saw, at the time, the benefit of having such an attraction on the Lake. Today however it is a loved landmark which is still owned by the descendants of Edward Clark. Please note the castle is very private, no tours are available, and outside of viewing it from a boat no other attempts to occupy castle should be attempted :)
---
Back to "Castles of the United States"

Research for this page done by Phil Bilzor, and Peter Millen