HUME CASTLE ??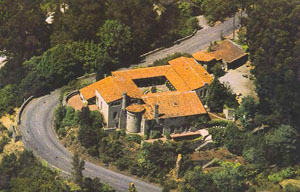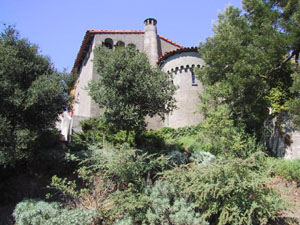 I received E-Mail that said:
Do you have any pictures or information on the history of the Hume Castle on 2900 Buena Vista Way in Berkeley, CA? It looks like a version of the Scotish Hume Castle....
Later, I received E-Mail that said:
I can confirm that there is a thing that people call the "Hume Castle" that is, indeed, at that address in the Berkeley hills. My mom used to talk about it. I'll try to ask her if she knows anything more about it. There's some famous Humes around the Bay Area; it may be from their name rather than from the fact that it looks like the UK Hume Castle.
Later, I received E-mail that said:
My family has always been close friends with another family that occupied Hume Castle so I grew up running around in it's cloister and making wishes in the well, there. I can't begin to tell you how beautiful it is. Very spacious and adventurous.
The details on the inside are to die for. Since I'm the son of a well known Berkeley architect, I think I have some right to pass judgement in favor of it's design, although my opinion may be somewhat biased. I remember so much - a huge iron chandelier, stone steps with no railing that always freaked me out 'cause I have a fear of heights, and dinner by a roaing fire.
Later, I received E-Mail that said:
Hume Castle in Berkeley was built for a professor of drama at the university of California at Berkeley, named Sam Hume. I think it was designed by the architect Bernard Maybeck, but I'm not sure. It's in several of the San Francisco Bay Area architectural history books. It was, at a certain point, willed to the University of California, and I think they were going to house an institute or library of medieval studies there, but that was 20 years ago, and I can't find it on the university web site.
Later, I received E-Mail that said:
According to "Berkeley Landmarks" by Susan D. Cerney (2001) the Hume Cloister (also known as the Hume Castle) was built by Samuel James and Portia Bell Hume in 1927. The architect was John Hudson Thomas and the design was based on an Augustinian monastery in Toulouse, France. My daughter (then 8) and I sat at its base eight years ago and she made a sketch that made her father proud.
On 2-4-10, I received e-mail that said:
Hume Castle was in fact designed by my Grandfather John Hudson Thomas who was a prominant architect in Berkeley and Oakland pre World War II. He brought the stones over from Europe. The Castle was donated to UC Berkeley after the final Hume (Margaret) passed away. My greatest thrill came in High School in the 80's when my Chorus did a Christmas performance there.
On 5-13-10, I received e-mail that said:
I do have some additional information about this wonderful American castle built by Thomas in 1927. I had the fortunate opportunity to work for the owners for four years in the late '90s and my office, Portia's bedroom, was up those unrailed narrow stone steps mentioned on your website (never fell off once!)and through the library. I enjoyed 270 degree views of the Bay Area through the windows.
Portia Hume was the daughter of a US Senator and quite active in the arts. On her return from Europe after her honeymoon (much of which was spent looking at castles and cloisters) the newlyweds chose to build a 1/2 scale model of the Augistinian cloister in Toulouse, France on land her father gave them. The effect is actually fairly intimate, with an enclosed central courtyard with stone well, and surrounding arches in a mix of Roman-Gothic. All of the windows are framed by the accompanying stone work (which makes fixing a broken window quite a challenge!) All of the oak doors, wainscoat and cabinets are carved in the folded linen motif.
The castle itself is walled and has, if I remember correctly, at least three towers. Down the entry walkway from the walled parking area to the courtyard can be seen pillars which have a gargol motif, evidently designed and casted by Portia herself. On one of the walls of the courtyard is a bas relief of the "Three Muses".
I don't know where the info about the Cloister being willed to UC Berkeley came from. The present occupants are the second owners since Portia Hume, and have taken great pride in willingly maintaining the residence in the style it demands. Before they purchased it (in the '80s, I believe), some of the built-in massive sideboards and cabinets had been removed for auction. As new owners, they tracked them down, sucessfully purchased them, and had them reinstalled back in the mansion.
It joins many of the amazing structures on "Nut Hill," such as "The Wings", originally owned by the Boynton Family, and many of the Maybecks in the vicinity. I'm sure there's a Julia Morgan in the area, too.
On 7-16-11, I received email with this link:
http://www.hewnandhammered.com/hewn_and_hammered/2010/10/hume-castle-in-.html#tp
I recently discovered this link about the castle being for sale.
http://www.berkeleyside.com/2016/04/12/medieval-style-north-berkeley-castle-on-market-for-5m/

Back to "Castles of the United States"