GLAMORGAN CASTLE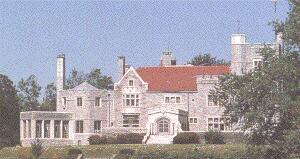 Glamorgan Castle was built in 1904 and 1905 by Col. William Henry Morgan. It was designed by architect, Willard Hirsh. The castle was built on a fifty acre tract and is made of Vermont marble. It consists of three floors and a full basement. In 1928, Col. Morgan died and the castle was sold to the Elks lodge. In 1964, the Alliance Machine Company purchased the property and restored it. In 1973, Glamorgan Castle became the property of the Alliance City School District. Today, Glamorgan Castle serves as the central administration building for the Alliance City School District.
For more information contact;
Glamorgan Castle
200 Glamorgan Street
Alliance, Ohio 44601
Please call (330) 821-2100
Visit their homepage by clicking here.
To return to this page, click on the BACK button.
Later, I received E-Mail that said:
The entire building measures 185 feet overall in front elevation by 115 feet in overall side elevation. Construction of the home and landscaping of the surrounding 58 acres were completed over a five year period at a cost of $400,000.
The home was sold in 1939 for only $25,000.
When it was decided to use Vermont marble for the building, drawings were sent to a quarry in Barre, Vermont. The stone was cut, numbered, and sent (96 train car loads) back to Alliance. Walls above ground are 13 inches think. The maximum below ground is three and one-half feet.
Col. William Henry Morgan invented the overhead traveling crane which made it easier for the steel industry to operate on a large tonnage basis.
These are some facts that I got out of a brochure from the castle. They also told us that the chandelier in the rotundra, was one of only two ever made. The lion head was in the ceiling of the room off of the rotundra. Everywhere the panels of the wood met on the ceiling there was a lion's head. The picture doesn't show how detailed it actually was.
On 8-21-07, I received E-mail with this link to some photos of the castle:
http://cantonrep.mycapture.com/mycapture/folder.asp?event=315435

Back to "Castles of the United States"