GIVINS CASTLE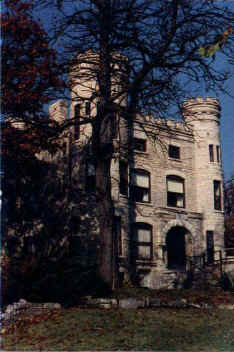 Givins Castle was built in 1886 by Robert C. Givins, the three story castle, with its three crenellated towers, was built from limestone hauled from a quarry near Joliet. Apparently, Givins lived in his castle until 1894, then again from 1904 to 1909 when he moved to San Francisco where he died in 1915. John B. Burdett, a manufacturer, purchased the castle in 1909. He had it wired for electricity, installed additional radiators, and made other changes. He sold the castle in 1921, for $7,000, to Dr. Miroslaw Siemans. "The Castle" fell upon hard times with the coming of the Depression; Dr. Siemans filed bankruptcy in 1935, and it was put into a trust in 1937. The Beverly Unitarian Fellowship bought the castle in 1942, for $14,000.
Later, I received E-Mail that said:
Givins Castle is situated on the corner of 103rd and Longwood in the south-side neighborhood known as Beverly. In addition to being one of Chicago's most unique structures, Givins Castle has the added distinction of being situated on the highest elevation in the city of Chicago. If you're in the area, a visit is in order, both for the castle and to view spectacular homes in this historically Irish and sigularly charming neighborhood.
On 1-18-10, I received e-mail that said:
I'm a member of the Men of the Castle, a group whose mission is to preserve The Castle, and am doing research on The Castle in the Beverly area of Chicago, which you have identified as "Givens Castle." Robert C. Givins was the owner who had the castle built for his family.
We have a webpage here:
http://www.beverlyunitarian.org/men-castle
On 5-25-10, I received e-mail that said:
I've updated the history section of Beverly Unitarian Church, the last and current castle-keepers of the Givins Castle in Chicago. I should mention it is also known as The Irish Castle. I'm still working on the documentary on Our Castle on the Hill: The History of Chicago's Irish Castle and Its Keepers. The Siemens family lived in the Castle until it was sold in 1942 to Beverly Unitarian Fellowship which later changed its name to Beverly Unitarian Church.
Use this link to go to the short history section:
http://www.beverlyunitarian.org/castle-more-century-history
Of course, the detailed history of the Castle keepers will not be available until I finish the documentary.
Back to "Castles of the United States"