GELSTON CASTLE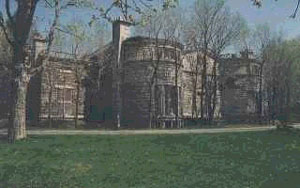 I received E-Mail that said:
I am writing to you to mention about historic Gelston Castle, a limestone mansion near Jordonville new York. The mansion, a replica of a castle called Gelston in Scotland, was built between 1834 and 1836 by Harriet Douglas Crugar. When she died, she left the castle to her niece, Fanny Monroe (1824-1906), the grandniece of President James Monroe. Fanny Monroe left the castle to her son Douglas Robinson who married Corrine Roosevelt, the sister of president Theodore Roosevelt. Reputedly,three presidents, James Monroe, Theodore and Franklin Roosevelt who were related to the family visited the castle. The last owner was the noted Russian Cellist Mstislav Rostropovitch who purchased the property in 1979. He had the place for sale. The current condition of the castle is unknown as Rostropovitch built a new home on the property.
Later, I received E-Mail that said:
The Castle still stands but the roof has caved in. Mistalov Rostropovich owns the property where he has a modern home built there. The property is up for sale for something like 2.5 million. Rumor has it the Kelsey Grammer was interested in buying the property.
Later, I received E-Mail that said:
With regards to the Gelston Castle in Jordanville, NY it is for sale as mentioned on your site. The condition I hear is very poor, but still it does get ones imagination to run rampant at what was ... and could be again.
A few realtors have been trying to sell the property without much success largely owing to the price and monstrosity of a contemporary home built on the property. The price for the property (for sale for over 5 years) has been dropped to $1.9 million. As mentioned the Roosevelt family did own the Castle and in fact it has a private cemetery in a back wooded area where former members of Roosevelt family are buried.
The current owners/builder seems to have built the contemporary home - on the same ridge line as the castle - with security concerns in mind: that house has a massive built-in safe (temperature controlled). Home can be totally darkened by electronically operated outside metal shutters. Property is security fenced with ornate gates, etc.
A small picture of the castle is on the page, but it reveals very little about the design. I'd love to go and see the castle but suspect I would be disappointed by its present day condition.
Later, I received E-Mail that said:
I stumbled on this one additional bit regarding the castle. It would appear that it at one time was called Henderson House in honor of the previous land owners.
No Place Like Home
excerpt taken from "Library of curious and unusual facts", published by Time Life Books
No Place Like Home
In the sixty-foot grand hall of Harriet Douglas's upstate new York castle was solid evidence of the heiress's imperious, often eccentric ways. After an acrimonious divorce in 1850 ended her late brief marriage to a tedious lawyer named Cruger, Douglas had the marriage bed sawed in half. The two objects thus produced were hauled downstairs to serve simultaneously as couches and as expressions of the marital sentiments.
Douglas loved her great stone pile of a place, which she had been inspired to build on her Mohawk Valley estate in 1832 after visiting the castle of cousins in Scotland. (An inveterate globetrotter in her youth, she boldly collected prominent personages and became friends with the likes of Sir Walter Scott and William Wordsworth.) She maintained a house in New York City as well, where she was a pillar of blue-blooded society. But her heart was at Henderson House, so named for the original owner of the land that it stood on.
At some point in time, an inspiration struck the grande dame: Her heart - and indeed, the rest of her too - could remain at Henderson House forever. She determined that the castle's cellar would be her burial place, and she ordered granite from Scotland for a grandiose sarcophagus. It was duly carved and installed in readiness for Douglas's demise, and her instructions were spelled out in her will.
But she was foiled by her heirs. When the eighty-two-year-old Douglas died in 1872, her family broke her will and gave her a thoroughly conventional burial in a New York City churchyard. But what to do with the sarcophagus? Some practical soul had it hauled out of the cellar and installed outside, where it became a water trough for horses. Eventually the sarcophagus disintegrated. Some say years of freezing split the granite into pieces, while other ascribe its destruction to a bolt of lightning. Harriet Douglas would have undoubtedly preferred the latter explanation.
Later, I received E-Mail that said:
After some research, I have learned that Gelston Castle used as a model the 13th century Cessnock Castle, Galston Scotland. Gelston was built with ideas from Cessnock and was not an exact copy. Gelston is actually a misspelling of the town Galston in Scotland where Cessnock Castle is located.
Later, I received E-Mail that said:
My grandmother, Janis Blair, owned that castle and operated a nursing home there somewhere in between the old history and the Russian cellist buying it. Henderson House was actually a large building about 500 yards away from the castle. There were also sunken gardens, a pond, a pet cemetary, a cottage, a carriage house and some barns for my grandmother's horses. (Probably the ones who drank from the sarcophagus.)
My cousins, sisters and I used to play in every corner of that castle. We left notes for Harriet the Ghost behind a huge gilt framed mirror in the Red Room ballroom. The moat was actually made into a little room next to the kitchen where we ate breakfast,while there was a dining room across the hall from the kitchen for the residents.
There is more information about this stage of the castle's history (even though it's not as impressive as the rest) in a book called Castles of North America. After Gelston Castle, my grandmother moved to a much smaller castle-like home in New York state called "Hillig's Castle".
Later, I received E-Mail that said:
I am writing regarding Gelston Castle, or Henderson Estate or the Cruger Mansion in Jordanville, NY. My husband's grandparents, Elmer and Muriel Burke, rented a farm that was part of this estate in the 1930's and 1940's. Part of their rent was paid by my husband's family cutting firewood in the winter months, along with cutting block ice from the pond to be stored in the icehouse. All of this was used by the owner of the mansion. Her name was Mrs. Robinson.
My husband's Aunt, Anne LeBrun, came over from Scotland to work as a servant at the estate for Mrs. Robinson in the 1930's. She married my husband's uncle, Foster Burke. My husband's grandmother, Muriel Burke, also worked for Mrs. Robinson, cleaning the mansion. There was a desk that had a bad leg and Mrs. Robinson told Muriel to throw it away. She felt that her husband, Elmer, could repair the leg, and asked Mrs. Robinson if she could keep it. The desk is in fine condition and is a prominent piece of furniture in our living room.
What is the current status on the sale of the Mansion? It is a shame to see such a piece of history deteriorate; it should be restored. Please let us know what is going on in that regard.
Later, I received E-Mail that said:
Gelston Castle, Jordanville is a 5 minute drive from my home. I have been there many times. The estate is for sale for 1.5 million dollars. The house (mansion) is one of the finest of homes. The castle on the other hand is unrepairable. The only way to repair the castle is to win the lottery. The floors are rotted through, the roof has caved in, the stones on the outside have fallen. The castle is half the size it was. That hopefully tells how much of it has fallen. The picture provided on your page is of course what it used to look like. Look at the picture and imagine the entire right half gone. that is the way the castle looks now. It is terrible to see a part of the Mohawk Valleys' history slowly decaying..
Later, I received E-Mail that said:
Gelston Castle in Jordanville, NY is memtioned in Edmund Wilson's book Upstate.
Later, I received E-Mail that said:
In the early seventies I had occasion to live at the castle with a couple of friends for a summer as lieabouts and some time care takers. The property was at that time for sale by Mrs Blair, and a friend was handling the transaction, and caring for the property. At the time the sunken gardens were intact, as was Henderson House and one of the greenhouses, and the castle itself where we lived. I can attest to the existence of the ghost of Harriet Douglas. The tomb was at a level below the servants kitchen and quarters, and is the darkest room I've ever been in, and contained the boiler at the time. The castle was still in very good condition at the time, I particularly remember the Red Room, off the Great Hall. It was covered in red velvet wallpaper, and had a beautiful piano in it.
The property was sold that year to an art organization to be used as some sort of museum. I saw the castle once, and found that they had painted all the walls a flat grey color (yes, including the red room)the better to show the art. It was a shame at the time, but moot now. It was after that that Rostropovich bought it, and apparently it decayed rapidly.
Later, I received E-Mail tha said:
When I was a child I had the privlidge of staying in the Gelston Castle for a short time. It had to be in the early 70's between 72 and 74. I remember that time very well. We came to the castle with my uncle who had stayed there for 2 weeks we were told that he was paid $2,500 to stay for that time. It was during a really bad snow storm and me my sister my grand-father, my uncle Butch and some of his friends went there and on the way my grand-father had wrecked his ranchero into a stop sign and we had to stay there with my uncle for 2 days.
I remember walking into the castle it was so beautiful the red velvet room was my favorite. I remember the piano there was also a pipe organ in the main hall. Beside the velvet room was a smaller room that had a big fish hanging on the wall my uncle told me that it had been caught by Theodore Rooselvelt and to me that was a big thing. My uncle explained to us why he was staying there. It was because there was a ghost of a woman named Harriet. My uncle was sort of a ghost hunter and was a little freaky himself.
I remember the prettty little cotage house, the carriage house contained an old car a carriage and an old sleigh. I remember the first night we stayed there it was freaky the pipe organ played in the middle of the night. I remember being in the velvet room one night and it was very cold in there me and my sister were just sitting there when all of a sudden the candles just bent over like it was really hot in the room but it was really cold. We ate in the servents kitchen which had a big fireplace with a coldron the moat visable through to glass doors which I asked how could there be a moat there with glass doors wouldn't the water come in and my uncle replied that the moat never really worked.
Well I could go one forever remembering things but I think I'll just cut it short. I would do anything to just see it one more time it was beautiful then but I hear that it is in bad decay now which makes me very sad. When we left I remember getting a post card of the castle which looks like the picture on the web site.
Later, I received E-Mail that said:
I used to live about one half mile mile from Gelston castle. My mother worked for Mrs. blair, teaching ceramics to the residents there. I am deeply saddened to hear that it has fallen to ruin. Makes me wonder what Aunt Harriret thinks about that. I also wonder if the pipe organ still plays although it has been broken for longer than I have been on this earth. I thought it was terrible when the carridge house and guest cottage burned back in the early seventies.
That castle really had too much history wrapped up in it to let it go to ruin I remember walking around the grounds in my youth, and yes, members of the Roosevelt family are burried on that property.
If you can find a copy( Please let me know if you do) of a small paperback book published by the VanHornesville Central School senior class of 1974? 1975? it also mentions Gelston Casle and all sorts of odd stories about the Mohawk Valley area. Also, If you have any ,or can get any pictures of Gelston Castle before it became a ruin I would love to have copies.
Later, I received E-Mail that said:
Although this is an article on the Jordanville public library, it makes quite a bit of reference to the Gelston castle in Jordanville, NY. Facts were taken from town records... see website enclosed at bottom of email.
Suprising to me Dr. James Henderson aquired the land but it was his grandaughter whom started the building process on the land. Even more suprising was that it was his great-grandaughter who had the castle built. I figured the castle was the first to be thought of and built. Included in the article is how Dr. James Henderson aquired the 16,000 acres, which the castle was built on, in 1739. The property was apparently given to him for his services rendered at Greenwhich Hospital in England. It goes on to say he had six daughters. And one of them married a Captain Peter Corne. From that marriage came three daughters. One named Margret married a George Douglas. She was the first to take interest in the land and had First the "cottage", which apparently still stands today, constructed. It was Margrets' second oldest daughter Harriet who had the castle built in 1833 on the Henderson Estate. It makes reference to her strong will and also how the sarcophagus was indeed turned into a horse trough.
When Harriet passed away she left no children. Margret's youngest, Elizabeth Mary, married James Monroe - nephew to the president. Their daughter Frances married Douglas Robinson and inherited Henderson House. Their pictures hung to the sides of the fireplace. Hers to the left and his to the right. Her son Douglas and his wife Corrine Roosevelt Robinson built the Jordanville library and donated it to the memory of his parents. "Teddy" Roosevelt (Corrine's brother) had spent time at the library as well as the castle.
I have never seen more than pictures of this place, but just the mystery of the fences and woods hiding it from the main roads make it just that much more appealing. I would love to walk through and see what is there now even if it is in ruins. There is apparently alot of history there and to let it deteriorate is a shame. I can understand wanting privacy, but I would like to see the place open up for tours. I breifly summarized all the facts I found from this link. (I know it doesn't sound brief!) but I'm hoping you will find it interesting and pass it along if you would like. Herkimer county is a beautiful place. It's time it gets some recognition, even if it is from Castles.
Click here: Jordanville Public Library
Later, I received E-Mail that said:
The Herkimer County Historical Society is seeking information on Gelston Castle, especially reminiscences from people who have spent time there or knew someone who lived or worked there. Gelston Castle (Henderson House) was built in the 1830's by Harriet Douglas Cruger on property off Robinson Road in the town of Warren in Herkimer County. The Historical Society is holding a fundraiser on the property on July 8 & 9, 2005. Please send any information to their email at herkimerhistory@yahoo.com or mail them to 400 North Main Street, Herkimer, NY 13350.
On 7-10-05, I received E-Mail that said:
I was very excited to go to the fundraiser that the Herkimer Historical Society put on for the weekend of July 8 and 9. I had always wanted to go but could never "find the time". Well I went and I couldn't have been more sadder. The castle is absolutly in ruins. The top floors have fallen into the first floor. There are a few walls left on the outside but they are also coming down. The famous Cellist, Rostopovich bought the property and just let it go. Even his beautiful house is going to ruin. If I had a dime for everyone who shook their heads in disbelief at the sheer ruin of it all...I'd be rich. It's true that the castle is beyond repair. I think that if someone with the money came in...maybe..just maybe...with lots of volunteer help, it could be brough back and even be able to use SOME of the stone walls and at least one turret still stands. Maybe two. The gardens could easily be brought back to their original beauty too. The land itself is pristine. I have never saw lovlier surroundings. I guess it would take winning the lottery though. What a shame it is to see now.
On 3-1-07, I received E-Mail that said:
My name is mark w., i live about an hour from gelston manor, and was contracted by the caretakers for work at the manor. I have personally been there twice and had lengthy conversations with the current caretakers. my last visit was mid summer 2005, so I apologize as some of this information may be inaccurate today. The property has been for sale for some time as mentioned before. Last I knew it was just under 1 mil. The property was at the time still owned by Russian cellist Rostropovich. He had not been to the property in over 7 years at the time of my visit.
The castle itself is in complete ruin basically. It has been left to the elements for as long as anyone can remember, I was told. The caretakers are actually new york state troopers employed directly by Rostropovich himself. They live on site guarding the property, the collect payroll from him, have credit cards for groceries and gasoline for lawn equipment. I was told that the troopers never see any bills for the property, as they have never seen any mail to the property, yet are instructed to check the mail box every day. Apparently Rostropovich takes care of power and whatnot. There are 6 troopers on site 24 hours a day, 3 lived in the main contemporary house that Rostropovich built (completed in the early 80s).
the main home is completely secure, as is much more of the property. It has cameras all around the main home, bullet proof glass with electronic metal shutters. There is a temperature and humidity controlled vault, a sound recording room, and many other unique features in the home. The pictures you may have seen on the net of the smaller red home on the property is home to 2 more troopers. This im told, again by nys troopers was the summer camp or retreat home of Roosevelt. It is a much older contruction, in a camp style theme. Plenty of wood, wood plank floors, log beams, huge single pane windows facing south which is actually away from main views over Herkimer valley, but toward center of property. There is a double iron gated entry (broken) with gold music notes on them. There are camers at the gate also (broken). Along the main entry thru the gates the drive is at least ¾ mile until you come to the old castle - which is the first thing you come to. there are lampposts along both sides. Many are broken mainly from fallen trees and limbs. The driveway itself is paved but in deperate need of repair from years of neglect.
On 4-5-10, I received e-mail that said:
I grew up about 200 yards for the entrance of the Castle. The Henderson House in the Caretakers house that sit out at the entrance of that Castle road.
I was in the Castle when I was around 10 years old. That's about 30+ years now. The Castle was amazing inside with White Marble floors and walls and spiral stairs as I remember. I also remember a story about hidden gold that was placed into the walls that were covered in Marble when built. Not too sure of the story but heard this was secured into the castle way back when it was built. I remember there was a rather large hold made in the wall hidden behind a black grand piano. This was just before Rostropovich took over so it could have been 32-33 years ago...
I think you could always rebuild a castle though. The marble and rock will never wither, its just the expense to rebuild the rest of it. You can see this castle peeking through the pines as you drive down Robinson Road past a small pond that runs under the road. This pond sites several hundred yards below the castle and on the other side of the road is a terrific falls that not too many people know about. This falls drops about 250+ feet and is a gorgeous site. There are also historic remnants of items such as stone wheels and such that have been lying in those woods for probably 100 years now.
Back to "Castles of the United States"