FONTHILL CASTLE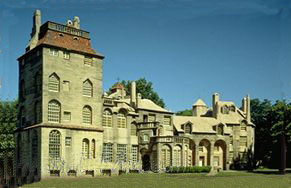 Fonthill Castle is situated on 60 acres of land in Doylestown, Pennslyvania. It was built by Henry Chapman Mercer who began construction of Fonthill in 1908 at the age of 52. Mr. Chapman completed the reinforced concrete building in 1912, and used it as his residence. The castle consists of forty-four rooms : 10 bathrooms, 5 bedrooms, 18 fireplaces, an Otis elevator and 21 chimneys and air vents. Since 1976 the Bucks County Historical Society has administered Fonthill Castle Museum.
I received E-Mail that said:
Fonthill, and its sister site, the Moravian Tile Works in Doylestown PA (also a castle-like building of concrete, built by the same man-- more like a castle's basement) are well worth a visit.
Visit their homepage by clicking here.
To return to this page, click on the BACK button.
On 6-26-05, I received e-Mail that said:
Between 1908 and 1916, Henry Chapman Mercer built three concrete structures by hand with a small group of laborers: Fonthill as his residence and for his collection of artifacts from around the world, Moravian Tile Works to bring back handmade tile in response to machine made, and the Mercer Museum as a showplace for artifacts of American industriousness (most of the thousands of items were secured by Mercer in the early part of the 20th century, put the collection is always being added to)
Fonthill and Mercer Museum are sister properties and open to the public for tours. They are administered by the Bucks County Historical Society in Doylestown, PA.
The Tileworks was provided as a bequest to a former worker, and so did not come under the auspices of the BCHS. After many years, it was taken over by park services and it open for tours, including demonstrations of how the tiles were made. From the beginning, the tiles were highly regarded and may be found in public buildings and other "castles," including the Isabella Stewart Gardner Museum in Boston, Massachusetts
Here is a current link to the BCHS website http://www.mercermuseum.org/index.html
Back to "Castles of the United States"