CASTLE CRAIG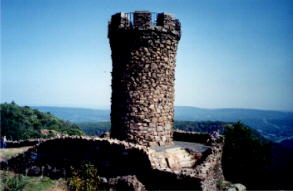 I received E-Mail that said:
Castle Craig sits high on a rocky cliff, in a park off of Main Street, in Meriden, Ct. It is more of an observation tower rather than a residential castle. on a clear day you can see New Haven and the Long Island Sound about 25 miles away.
Later, I received information about the castle that said:
The castle was dedicated October 29th, 1900 and was given to the people of Meriden by Walter Hubbard. The round observation tower was built of trap rock and is 32 feet in height and about 18 feet in diameter. An interior stairway is used to get up to the observation area on top. This observation area is 1002 feet above sea level and provides a spectacular view of the greater Meridan area. Castle Craig is part of the 1800 acre Hubbard Park which is named after Walter Hubbard. There are hiking trails to the tower as well as a road which is open from April to October from 10:00 am till 5:00 pm.
Later, I received E-Mail that said:
Castle craig in meriden, ct. - a little snippit that would be great for your readers. (i think it is 1007 feet above sea level, not 1002).
It's the tallest land mass so close to a body of water (long island sound) from maine to florida.
Back to "Castles of the United States"

Photo courtesy of Andrew Montesi.