COTTONLAND CASTLE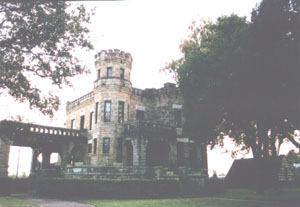 Cottonland Castle consists of about 6,600 square feet of living space and is made mostly of white sandstone. The front door is made of solid oak, measuring 9 feet 4 inches tall and weighing 400 pounds. It is so well balanced that it can be moved by a small child. The main door opens into an entrance hall, 9 feet by 15 feet in size. To the left, there is a main stairway that goes from the main level to the second floor which contains the bedrooms. Off to the right is the drawing room. The term "drawing room" comes from the medieval castle term "withdrawing room" where the king or lord could have his privacy. Next, we enter the 18 by 24 foot living room. The mantel over the fireplace in the living room is large and was designed to hold a mounted stag head, in the tradition of medieval castles. Inscribed on the mantel is a latin phrase which translated into english reads, "The divine guidance of God sustains me". The castle has a total of eight fireplaces. Doors from the living room lead into the dining room. Also on the main level is the library and a sun room with views of the 20' X 40' swimming pool and cabana.
The "basement" level is mostly above ground, and contains the kitchen, large pantry, boiler room, den, breakfast room, and wine cellar. The wine cellar is in the basement portion of the tower. The next higher level of the tower contains part of the stairway landing. On the floor above that, it is a boudoir off the master bedroom, and forth level is the roof level. There is a second tower over the garage and servants quarters. It's original function was to hold a water tank.
HISTORY
John Tennant was a stone contractor who, in 1890 he made a deal with banker J.W. Mann in which Tennant got a square tract of land 350 feet by 350 feet. Tennant carried leftover cut stone from the new Provident building downtown to his plot of land and started building a stone house. Tennant had financial problems and in 1906 he sold the property to Ripley Hanrick who bought it with the agreement that Tennant would continue the stonework. The sandstone walls and the round tower on the northeast corner went up slowly and for a few years, little if any work was done. Sometime around 1910, Alfred Abeel bought the property and hired contractor N.P. Lowrey to finish the castle. It was finally completed in 1913, 23 years after it was first started.
A family named Pipkin lived in the house for many years. In 1969, it was sold to Mr. and Mrs. W.J. Schwan. In 1990 the Castle was purchased by Mr. and Mrs. Ginzburg. In 1999 Mr. and Mrs.Hatch Bailey purchased The Cottonland Castle fully furnished as a home in which to reside with their four sons.
On 2-28-19, I received e-mail that said:
Here's an addition for the Cottonland Castle:
http://www.newser.com/story/271878/chip-joanna-gaines-now-own-a-castle.html