CHEROKEE CASTLE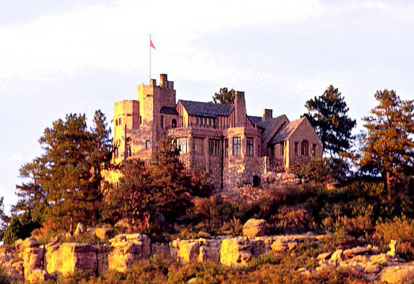 Cherokee Castle was built between 1924 and 1926 by Denver Real estate tycoon Charles Alfred Johnson and his wife, Alice. The Johnson's hired Merrill and Burnham Hoyt, well known Denver architects, to design the house. Originally the house was planned to be very modest, but one thing led to another, and by the time the design was complete, the building contained 26 rooms, and sprawled to 10,000 square feet.
The Johnson's owned the house for 30 years, but by the early 1950's Mrs. Johnson had died, Charles Johnson was in a nursing home in California, and their sons Charles and Gifford had also moved to California, using the house only in the summer. It was still heated by coal, and in need of a new furnace and other upgrades, so they decided to sell. The home was perfect for Tweet Kimball, who was looking for a large home to display her extensive collections of art and furniture.
Tweet Kimball bought the Castle in 1954, and also bought the adjoining land, which had been in the Blunt family since the homestead act of the 1860's. That land included Blunt Mountain, which Tweet renamed Cherokee Mountain. She then renamed the ranch "Cherokee Ranch," and lived here for 45 years, until her death in 1999. She was well known in the community for her lavish parties, and entertainment of distinguished people from all over the world.
In 1996, Mrs. Kimball established a private foundation, Cherokee Ranch and Castle Foundation, and donated the castle, her art and furniture collections, cattle operation and the land to the Foundation. Mrs. Kimball acted as president of the Board of Directors while she was living, and continued to live here in the castle. Since Tweet died in 1999, the Board of Directors and staff have run the foundation.
For more information,
Cherokee Ranch and Castle
Information and Reservations:
Contact: Caroline Krueger 303:688-5555
Or visit their website at:
Cherokeeranch.org

Back to "Castles of the United States"