BALLYTORE CASTLE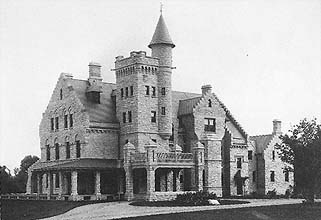 "Ballytore" castle was built for Philadelphia merchant Issac H. Clothier in 1885. The architect was Addison Hutton, who also did much work on the campus buildings of Bryn Mawr, Haverford, and Lehigh, as well as churches, business buildings, and many other suburban residences. Mr. Clothier was a founder of the Strawbridge and Clothier department store in Philadelphia.
"Ballytore" castle is located on a 50 acre site at the intersection of Lancaster Pike and Wynnewood Avenue. The basic material used in the castle is gray granite with Wyoming Valley bluestone being used for bands and copings. The roof is blue slate. Of particular note is the small, round tower sprouting from a larger, rectangular one. The towers exceed 80 feet in height, and the footprint of the building is over 40 by 120 feet. Wide openings link several of the most important rooms, and the hallway between the library and the parlor doubles as a pathway to the rear porch. The castle also was built with an Otis elavator.
"Ballytore" castle was used as "The Agnes Irwin School" for many years; it is currently being used as an Armenian church.
Back to Home Page

Picture and information courtesy of Phil Bilzor.