ALEXANDER CASTLE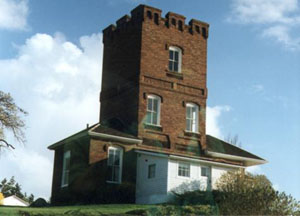 I received E-Mail that said:
This is Alexander Castle in Ft. Worden park in Washington.
On 1-16-09, I received e-mail that said:
According to the legend, Reverend John Alexander built the castle for a prospective Scottish bride in a style reminiscent of his native country. In 1883, he acquired 10 acres of land near Point Wilson and constructed the building known as Alexander's Castle. Alexander intended the building to serve as a home for him and his bride. Traveling to Scotland to get his bride, Alexander found that his bride-to-be had married another. He returned to Port Townsend alone and used the building as a temporary residence. During the park's Army days, the castle was used for a number of purposes including serving as the first site of the Post Exchange and for many years housed the tailor shop.
http://www.parks.wa.gov/fortworden/accommodations/uniquehousing.aspx
Back to "Castles of the United States"

This castle suggested by Katrina Price.