ABORN CASTLE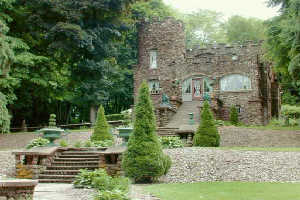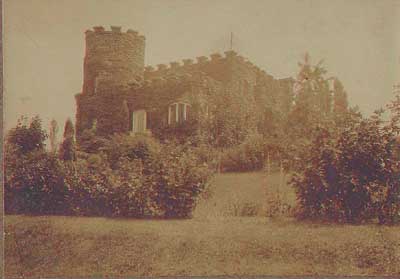 I received E-Mail that said:
There is a small privatly owned castle in Ellington CT on Route 83. It has a beautiful circular tiered fountain in the front yard. Rumor has it that it was once part of the underground railroad hiding runaway slaves. I can't find a phone number, but the "Journal Inquirer" did an article recently about the town's history.
Later, I received E-Mail that said:
In looking at the Connecticut listing, I noticed the site on Ellington. I have lived in Ellington my entire life, the castle that you have mentioned, is indeed a private residence, regular bedrooms, standard amenities inside. Recently it has been added to the school text books because it was a speakeasy during the prohibition period, I belive it has a few false walls and what used to be a tunnel of some sorts.
Later, I received E-Mail that said:
It is presently for sale, if you go to realtor.com, select Ellington CT. asking price 895,000. They have a virtual tour and much detail.
Later, I received E-Mail that said:
My name is John DeAlba , I am the owner of the unknown castle in Ellington CT. It is know as the Aborn Castle , built by Harry Aborn about 1920 . I bought it about 3 years ago and have been trying to restore it . I am about done and have it on the real-estate market listed at $695,000. It is the 13th house I have remodeled or restored . This one has been the most interesting ! I am e-mailing you a photo of the castle back in the 30's when it was used as a road house ( much like bed & breakfast).
Back to "Castles of the United States"

Thanks to Katrina Price for finding and sending the first photo and John DeAlba for the second..